Irena Sendlter was born in 1910 in Otwock, a town 15 miles southeast of Warsaw. She was greatly influenced by her father who was one of the first Polish Socialists. As a doctor his patients were mostly poor Jews. In 1939, Germany invaded Poland, and the brutality of the Nazis accelerated with murder, violence, and terror.At the time, Irena was a Senior Administrator in the Warsaw Social Welfare Department, which operated the canteens in every district of the city. Previously, the canteens provided meals, financial aid, and other services for orphans, the elderly, the poor, and the destitute. Now, through Irena, the canteens also provided clothing, medicine, and money for the Jews. They were registered under fictitious Christian names, and to prevent inspections the Jewish families were reported as being afflicted with such highly infectious diseases as typhus and tuberculosis.But in 1942, the Nazis herded hundreds of thousands of Jews into a 16-block area that came to be known as the Warsaw Ghetto. The Ghetto was sealed and the Jewish families ended up behind its walls, only to await certain death. Irena Sendler was so appalled by the conditions that she joined Zegota, the Council forAid to Jews, organized by the Polish underground resistance movement, as one of its first recruits and directed the efforts to rescue Jewish children.
To be able to enter the Ghetto legally, Irena managed to be issued a pass from Warsaw's Epidemic Control Department, and she visited the Ghetto daily, reestablished contacts, and brought food, medicines, and clothing. But 5,000 people were dying a month from starvation and disease in the Ghetto, and she decided to help the Jewish children to get out. For Irena Sendler, a young mother herself, persuading parents to part with their children was in itself a horrendous task. Finding families willing to shelter the children, and thereby willing to risk their life if the Nazis ever found out, was also not easy.
Despite the hardships, Irena Sendler successfully smuggled almost 2,500 Jewish children to safety. Some children were taken out in gunnysacks or body bags. Some were buried inside loads of goods. A mechanic took a baby out in his toolbox. Some kids were carried out in potato sacks, others were placed in coffins.
The Nazis became aware of Irena's activities, and on October 20, 1943, she was arrested, imprisoned, and tortured by the Gestapo, who broke her feet and legs. But no one could break her spirit. Though she was the only one who knew the names and addresses of the families sheltering the Jewish children, she withstood the torture that crippled her for life, refusing to betray either her associates or any of the Jewish children in hiding. Sentenced to death, Irena was saved at the last minute when Zegota members bribed one of the Gestapo agents to halt the execution. She escaped from prison, but for the rest of the war she was pursued by the Nazis.
After the war she tracked down the children she'd placed with adoptive families to reunite them with relatives scattered across Europe. But most lost their families during the Holocaust in Nazi death camps.
Irena's sacrifice inspired the character Jeremiah in my newest novel, Sweet Sanctuary, which releases April 1st. Jeremiah is a missionary in war-torn Poland who secretly arranges transport of Jewish children to America, where they are placed with Jewish families.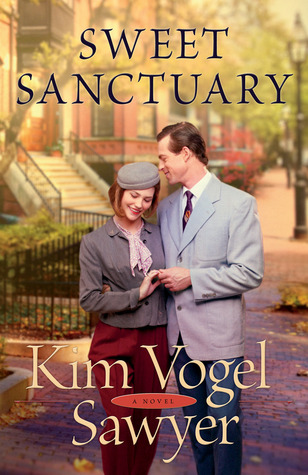 Researching for this book was the hardest research I've ever done. The atrocities inflicted on humans because of one man's irrational hatred still haunts me. When my husband, parents, and I visited Germany in 2009, I had the privilege of visiting two significant places–the Dachau concentration camp, and Hitler's Eagle's Nest (I blogged about this experience 
here
). Comparing the ugliness of the camp to the amazing beauty of the Bavarian Alps brought me to tears. I wondered then and I wonder now how a man who gazed upon God's majesty could be so full of malevolence? How could he have convinced so many others to perform such evil, heartless deeds? I do not understand. I will never understand.
But knowing people like Irena Sendler also existed shines a candle of hope in the blackness of heartache. Thank God for people like Irena, willing to sacrifice her own life to reach out to those in need.
Ending on a lighter note… As I've read the posts this month about women from the past whose efforts have an impact on today, I couldn't help remembering a T-shirt I bought at a museum in Indiana. It boldly states, "Women who behave rarely make history." Isn't that true? Each of these women bucked convention and stepped far beyond their comfort zones to fight for something in which they firmly believed.
If we could all be so brazen and open about those things that are important to us–faith, family, morality–perhaps tomorrow's generations would be impacted for good.
God bless you muchly as you journey with Him! ~Kim