Be honest–how many are you now humming the tune from The King and I? Heh heh heh… I hum it a lot when I start a new novel, because the start of a new novel means becoming acquainted with a set of new "friends."
It helps for me to be able to visualize the people in my stories, so I hunt up photographs and use them to help me keep my facts straight. Currently, these pictures are hanging near my desk as visual reminders as well as company.
Alexa and Suzanne
Danny and Paul
The Zimmerman farmhouse
Funny how putting a picture in my head helps make the characters more real to me. But their exteriors aren't as important as what's going on under the surface. Before I start a story, I spend time discovering each point-of-view character's goals, why those goals are so important, and what is standing in the way of him/her achieving the goal. This gives my story the conflict that drives it to the conclusion. But funny thing…just as you learn more and more about someone the longer you know them, the more I learn about my characters as the story progresses. And quite often they surprise me with something I didn't see coming. As a matter of fact, Suzanne dropped a bombshell on me a few days ago that completely changed the story's outcome and has a trickle-down effect on the other POV characters. Yep, never a dull moment here at the ol' computer. :o)
The other thing I always do is have a scripture reference in mind when I start a story. Of course I want my readers to be entertained, but I also want to give them a little nugget of spiritual truth on which to chew. Without any scriptural base, that can't happen. For the current story, my reference comes from Psalm 25:7.
"Remember not the sins of my youth, nor my transgressions: 
according to thy mercy remember thou me for thy goodness' sake, O LORD."
You see, these characters (kind of like most of us) carry regrets for decisions made in younger years. And those regrets are causing stumbling blocks for them in the current time. Aren't you glad our Lord gives mercy? He tosses away our sins as far as the east is from the west…but of course, we have to be willing to let them go, too. And therein lies much of the conflict of this story. I'm eager to see how it all turns out! In the meantime, I sit down each day, apply my fingers to the keyboard, and hum, "Getting to know you, getting to know all about you…"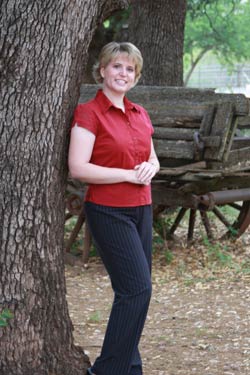 And speaking of getting to know someone…I'm pleased to introduce Karen Witemeyer, who will be joining the Writes of Passage family.
Two-time RITA® Finalist and winner of the coveted HOLT Medallion and ACFW Carol Award, CBA bestselling author, Karen Witemeyer, writes historical romance fiction for Bethany House, believing that the world needs more happily-ever-afters. She is an avid cross-stitcher, shower singer, and bakes a mean apple cobbler. Karen makes her home in Abilene, TX with her husband and three children. Learn more about Karen and her books at: www.karenwitemeyer.com.
I know you'll give Karen a big welcome!
And now…back to my "friends."
May God bless you muchly as you journey with Him! ~Kim